How to Defeat Demons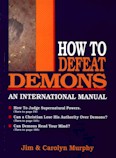 From Chapter 1...
The natural realm is the one in which we live, work and play. It is only temporary. The spiritual realm is where we Christians have our real home. It is eternal. God created mankind to be eternal citizens of the permanent, spiritual world. It is in this spiritual realm that the forces of light and darkness do battle, worship God or Satan, try to dominate our minds, and so on..
Table of Contents...