HOW TO DEFEAT DEMONS
By Rev. Jim and Carolyn Murphy
PART TWO - LEARNING ABOUT SPIRITUAL WARFARE
CHAPTER 5
SPIRITISTS AND SATANISTS
INTRODUCTION
Learning how to do spiritual warfare against demons is very important. Many inexperienced Christians have one of two reactions to spiritual warfare. They are either frightened or fascinated by it. The more mature, experienced Christians respond to spiritual warfare with care and firmness, seeking the Lord's guidance at each step.
Spiritual warfare isn't something to be taken lightly. The details contained in this Part II are for the instruction of those who will take up the challenge of spiritual warfare. Battle maims, wounds and kills soldiers. There is a parallel in the spiritual realm. Every spiritual warrior needs knowledge, not only of the battle, but also of the costs involved. In worldly warfare, most of the wounded are the less skilled. So it is also in the spiritual realm.
I know these are sobering thoughts. I am not trying to scare anyone. I am telling those who intend to become involved in spiritual warfare that there are dangers. For our "...enemy the devil prowls around like a roaring lion looking for someone to devour." (I Pet 5:8 NIV). The uninformed and untaught Christian who is anxious to jump into the arena with this "lion" may soon wish he or she had not. Yes, we do have the power to overcome the enemy. But using this power without understanding the rules controlling it is dangerous. It's like giving a child a loaded pistol without telling him how to use it safely.
If one fully knows and sticks to the rules outlined in these next chapters, he or she will always win. He will walk in victory when doing spiritual warfare with demons. Much of the wisdom of warfare is knowing "if," "when," and "how" to engage the enemy. If we know about warfare and understand the rules, God will answer our questions when we ask. After all, Jesus did come to set the captives free!
Demon Spirits
When I use the words "spirit" or "demon" I am referring to the same beings Jesus did when He cast them out of people. Jesus made it very clear that they exist. Their final end is also clear from Scripture...they're going to be cast into the lake of fire that burns forever. (Rev 20:10 and 15).
Demons or spirits are evil spirit beings who have no body. One of their goals is to have a human host. Such hosts give them a way to express their will and their personality in our natural world. Though demons prefer human hosts, they often use animals as hosts. If demons can't find a living host, they can attach themselves to objects, especially objects made for or dedicated to that purpose. These objects include idols, amulets, charms, fetishes or instruments of ritualistic worship used in demonic worship rites. Demons also can inhabit physical locations such as a building, a house, or a room within a house.
To understand how Satan does his work it is most helpful to know how he has organized his kingdom and how he uses human beings. As I have already stated, demons are spirit beings seeking humans as hosts. The demon is able to live in a host. It can also convert the host human into its agent through whom the demon can carry out its lord's will.
When demons inhabit a person, their specific goal is to use that person to lead other people into demonic slavery. The individual who willingly allows himself to be a host becomes an active part of Satan's hierarchy. Eventually these people become spiritists or Satanists. Once in that kingdom, the person can and does develop the power of the demon(s) within. As time goes on, these people become very good at using demonic power.
There is another group of demonized people whom I call "dupes." These people give themselves to demonic control and oppression through ignorance or sin. A person can remain a dupe all his or her life, and never willfully enter the hierarchy of the Satanists or spiritists. I define people who fall into demonic traps through trickery or deception as dupes also. Still others, such as children, become victims of demonic oppression through parents who didn't know what they were doing.
The Hierarchy of the Satanic Kingdom
We know from Scripture that a chain of command exists which I have diagrammed in Figure 5-1. (see Dan 10:13, Eph 6:12, Col 2:15, et.al.). We see Satan at the top with two branches of his kingdom, spiritists and Satanists. Each nation of the world has a powerful spirit being over it. I believe these beings are fallen angels because their intelligence and power far exceeds that of the lower demonic world. From the interviews I have had with former spiritists and Satanists, I believe there are two demons under each ruling spirit of every nation. One demon rules over the Satanists, and the other over the spiritists. These demons usually have human hosts. The Bible refers to these beings as "principalities and powers." Under each of these beings are demon rulers for each state or province of each nation, one for the Satanists and one for the spiritists. Then under these demons are lesser demons over each city, town or village, one for the Satanists and one for the spiritists.
I have diagrammed the satanic kingdom showing the two divisions of Satanists and spiritists in Figure 5-1 as follows: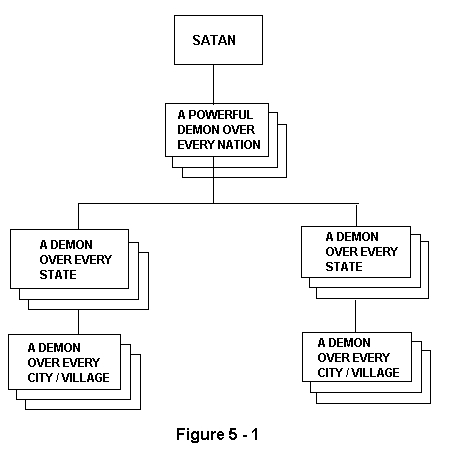 1. Satanists
Let's first examine the Satanists. Who are they? Where are they? What do they do? Satanists are people who knowingly enter into a covenant or contract with Satan. They fully give themselves over to him to do his will. They worship Satan. Satanists try to place themselves or other Satanists into key positions of every branch of society such as government, law enforcement, health care, education, church hierarchy, etc.
Satanists hold regular, highly secretive satanic worship rituals in which they offer blood, animal, and even human sacrifices to Satan. Satan may physically appear at such rituals, particularly if there is to be a human sacrifice.
Powerful demons possess all Satanists. These demons communicate orders from Satan and provide supernatural powers, money, and whatever else is needed to carry out Satan's orders. They have the power to, and often do, cause people who are in the way of their plans to become ill, have accidents, or even die. A Satanist may place a curse on someone to cause ill health, physical weakness, depression, financial failures, and so on. This is often done because the person is blocking the Satanist's goals, or because the one cursed is a Christian whose work is interfering with demonic plans.
Additionally, many people who are Satanists have the power to send themselves over distances by supernatural means. I have read testimonies of former Satanists who converted to Christianity and told of such travels. A Nigerian named Emmanuel Eni, in his book Delivered from the Powers of Darkness, told of such experiences. Several times he traveled to India in the spirit. From my research I believe that only high ranking Satanists have this power.
Eni also spoke of attacks against Christians who were particularly effective in their ministry. The most enlightening thing Eni told was the enormous power Christians have against forces of darkness when they use the name of Jesus. According to Eni, when Christians used the name of Jesus against them, all their demon power melted! He tells about seeing (in the spirit realm) fire come out of a believer's mouth when he speaks the name of Jesus. There is that much power in the name of Jesus!
Elaine, the former Satanist in Dr. Rebecca Brown's book, He Came to Set the Captives Free, told the following story. Satan ordered her and many other Satanists to kill a Christian who was very effective in his ministry. They traveled to his home by supernatural means. When they got there they found his property surrounded by angels of God! Not one of them could set foot on the Christian's property! Elaine said that was the first time she knew there was a power greater than Satan.
True Satanists are normally very secretive. Rarely does a Satanist reveal himself to the public. Political and religious conditions must be favorable before they will do so. For example, in recent years in the United States, there have been public appearances of Satanist priests on television. However, they still never tell publicly all that they do, where they do it, or who other Satanists are. They guard those secrets closely.
Recruiting of Satanists - In recruiting, Satanists prey on the "loners" of society. According to Dr. Rebecca Brown, they seek and become friendly with those who are social misfits in school, the work place, or the community. A Satanist will befriend the person and eventually begin to tell him how he can have supernatural powers. If the person responds favorably, he is taken to low-level satanic rituals where supernatural powers are demonstrated. The goal is to try to get the person to sign a contract in his own blood.
Another method of recruiting for Satanists is the family blood line. Parents try to pass it on from generation to generation. Children of Satanists are brought to satanic worship rituals from infancy. While I believe this practice is more common in the emerging nations, it happens worldwide.
Satanists also invade Christian churches. (See Rev 2:9, II Cor 11:13-15, et.al.) Their goal is to weaken the spiritual power of the believers and to shift the church's resources into unnecessary projects and reduce or completely stop effective prayer. You can't see these church-going Satanists with the natural eye. They smile, say all the right words, and do all the same things a true Christian does. As in the parable of the Wheat and Tares, there is no natural means of detecting them. (Mat 13:24-30). Only the Holy Spirit in us can tell the true from the false.
2.Spiritists
Spiritists are people who, with demonic cooperation, use tools of the spirit world to draw others into the demonic realm. As noted in Figure 5-1 the spiritists hierarchy is similar to that of the Satanists. They draw people into demonism through various mystical means. They use devices such as fortune telling, finding lost objects, mystical healings, and so forth. Most spiritists do not know they are really serving Satan whereas the Satanists actively serve and worship Satan. Satan uses many spiritists, especially lower ranking ones, who are not aware of it. It would horrify most spiritists to know that they are ultimately serving Satan. They are indeed dupes.
Unlike the Satanists, spiritists are very open and public in their activities. They catch people in Satan's web through a variety of clever and attractive supernatural powers, tricks and devices. These include ouija boards, palm reading, tea leaf reading, seances, clairvoyance, levitation, mind reading, telesthesia, horoscopes, astral-projection, eastern religions, meditation, etc.
Spiritists have certain supernatural powers. Demons are the force behind this power. Often when the dupe host discovers the demons, the demons will pass themselves off as "good" spirits. They contrast themselves with satanic spirits or other demons whom they call "bad." We have learned earlier in this book that the fact is they are all "bad."
Note too that those who rise in the hierarchy of the spiritist world with increasing powers cannot remain dupes. They eventually learn where their power comes from. They eventually know who their "god" is and must willfully cooperate with Satan or a very senior demon to maintain their power.
Like Satanists, spiritists are also in our churches. They are easier to spot than Satanists because they usually speak more openly about their beliefs and activities. Many spiritists who don't know they are Satan's pawns may be sincerely seeking something more. Therefore, we must use God's wisdom in dealing with them. However, there is one firm rule: never allow a spiritist to have any place of prominence in a church. That person should never be allowed to become a deacon, teacher, committee member, etc. Only after they have repented, been born again, and been completely freed from demonic powers may they serve as leaders.
Spiritist Marketing Strategy - In the business world "marketing strategy" is a term used to describe the plan to move a product or service from the originator to the buyer. Such plan or strategy includes attractive advertisement, billboards, radio and TV commercials, attractive packaging, sales people and testimonies by happy users.
The spiritists' marketing strategy for their demon power uses these tools very well. Spiritists victimize children with "products" shown to them through cartoons, TV programs, school books, games and the like. Spiritists victimize adults with the same "products" through TV, movies, books, etc. In most major cities in the Western world their sales people hold regularly scheduled seminars. They teach college courses on a variety of occult subjects and frequently even lecture in churches. They also have their own spiritist churches. The Church of Scientology, Christian Science, Inner Light, Church of Religious Science, Science of the Mind, Unitarian Universalists, Unity, and Self-Realization 4 are all spiritist churches.
Most of the above churches are Western churches, though many of them do have "missionaries" spreading their false doctrines in the non-Western world. The non-Western spiritists churches fit their own culture. For example, in the Philippines there is Ecclesia de Christo, a militant cult church. In Nigeria there is a spiritist church called The Church of the Cherubim and Seraphim. They are involved in "angel worship" and "prophecy." Today in the Western world the popular marketing strategy for adults is known as the "New Age." In fact New Age isn't new at all. It's the same pack of lies Satan has been selling for centuries. He has merely repackaged the old lies by giving the former "occult" practices new names. For example, one who introduces another to a spirit guide (a demon) is no longer called a "medium." Such a person in the New Age movement is known as a "Channeler" - same deception, new name.
New Age is at the forefront of much of today's spiritist marketing in the Western world. But they have added a new twist in their plan. They now attempt to transfer their deceptive practices over into the scientific arena. They are trying to inherit the credibility enjoyed by the sciences. This explains why many New Age books and articles, as well as the list of churches above, often include the word "science." People in the field of science co-author many of their books and articles. This makes their lies more acceptable. But the product is still the same age-old deception of the ignorant by Satan and his demons. I have no doubt that a few years from now "new age" will be "old" and something "new" will take its place.
What is Wrong With Spiritism?
To answer this question we look to Adam's sin. In principle, God said to Adam, "Adam, you will find everything you will ever need in this tree, the Tree of Life. Anytime you need anything, just come to this tree." The Tree of Life symbolizes God's provision for mankind through His Son, Jesus:
...my God shall supply all your need according to his riches in glory by Christ Jesus. (Phil 4:19 KJV).

But Adam began to look at the other tree in the garden, the forbidden tree. He wanted to eat of its fruit. Man began to want to know about good and evil. He also wanted to know about the future. The Lord made clear His position on man prying into the future:
The secret things belong unto the LORD our God: but those things which are revealed belong unto us and to our children for ever... (Deut 29:29 KJV).

Therefore God's clear plan is that we not concern ourselves about the future, for Jesus told us to pray, "...give us this day our daily bread." As Christians, today is the only day for which we are accountable.
But Adam rejected the Lord's instruction. He "needed" something that the Tree of Life didn't provide. So he went to another for it. To make a clear comparison about the importance of this act, Adam's going to another for his needs is not unlike a wife going to man other than her husband...for her "needs." We call that adultery...so does God.
Therefore when we, as Christ's bride, go to any source other than Him, we are committing spiritual adultery. Satan provides many opportunities for the church to commit spiritual adultery. Christian involvement in spiritism is spiritual adultery. That is why the Lord warned us about spiritists and their activities.
1.Evil Practices of Satanists and Spiritists
Looking in Deuteronomy, Chapter 18, the Lord's warned Israel to turn away from the practices of their nearby neighbors. In Deuteronomy 18:9-13 Moses lists nine demonic practices that God hates. They are 1) the sacrifice of sons or daughters in the fire, 2) divination, 3) sorcery, 4) interpretation of omens, 5) witchcraft, 6) casting spells, 7) mediums, 8) spiritists, and 9) one who consults the dead.
A few of these activities overlap. There is some uncertainty among theologians about the exact meanings of certain words used in the original Hebrew text. One expert opinion I read suggested that Moses grouped together every word contained in the Hebrew language on demonic and occult practices. He did this to show God's complete hatred of these practices. Here are the meanings of these sinful practices in biblical times and how they apply in today's world.
a.Sacrifice Son or Daughter in the Fire
- In Old Testament times this practice involved the worship of the demon god Molech, the national god of the Ammonites. Such worship involved the killing of children by burning them in a fire on an altar built to Molech. This kind of child or adult sacrifice today is still an abomination to God.
b.Divination - Divination is the practice of getting secret or hidden knowledge, especially of the future, by asking demon spirits. The person who uses divination comes under the spell of the spirit that permits him or her to see things hidden.
c. Sorcery
- Sorcery is the art, practice, or use of evil, supernatural powers over people and their affairs. In Galatians 5:20 most Bible translations wrongly translate the Greek word pharmakeia as "witchcraft." The correct translation is "sorcery." In the first century church, it meant "the act of giving drugs and magical potions."
Today we should view those who give, sell or use potions and poisons and those who sell or use illegal drugs as under the influence of sorcery.
d.Interpretation of Omens
- This is the practice of interpreting an event or object as indicating a good or evil event that will happen in the future. The Hebrew translators interpreted the word oguri as "to practice augury" or "to observe times." In the verb form the word is onen which means to utter low, croaking sounds such as is done in divining. Among the ancient Babylonians the practice of interpreting omens was common. The Prophet Isaiah (47:13) mockingly urges Babylon to ask her astrologers to save her from God's threatened doom.
The interpreter of omens uses several methods, all pointing toward gaining knowledge of the future. Certain natural events are "special" such as the full-moon, the solstice, etc. Muttering incantations or the reading and interpretation of "signs" from a variety of sources, such as the stars, are done on these special days. Daniel used the word "astrologer" in this sense. (Dan 1:20 and 2:2).
e. Witchcraft
- Witchcraft is the art or practice of a witch. The word "witch" in the original Hebrew biblical text means "to practice the magical art." In Western cultures "witch" has for centuries meant a woman who has a contract with the devil or evil spirits. With their help she can cause injury, illness and death to people. The biblical term for witch is both male and female. One expert whose writing I researched said a good translation for the word is "one who knows."
f. Casting Spells
- According to E. W. Maunder, one who casts spells is "one who inflicts a spell by weaving magical knots."
5
Today this practice involves the power to send a demon to do harm to another or to cast a spell on another with harmful effects. It is obvious from the Lord's warning to Israel that such practices were and are wrong.
g. Medium
- The Bible calls a medium a "consulter with familiar spirits." A "python" or "soothsaying" demon such as in Acts 16:16-18 controls mediums. By demon power the medium may closely imitate the genuine prophet of God. The slave girl who followed the Apostle Paul and Silas was a medium. She shouted, "These men are servants of the Most High God, who are telling you the way to be saved." (Acts 16:17 NIV). We find this family of demon spirits in false prophets today. Note that what they say is often correct, and may even be biblical...but the source is demonic.
h. Spiritist
- A spiritist is also known as a "wizard" and, as used in the Old Testament, it always meant a man who interprets the visions and prophecies of the medium. The kings of biblical times kept such people in their court. They believed that they had the ability to interpret dreams and visions.One Who Consults the Dead - The King James Bible uses the term "necromancer" to describe one who consults the dead. The best example found in Scripture is the woman to whom King Saul went when he wanted to talk with the dead Prophet Samuel. (I Sam 28). Today, we call that woman the "witch of Endor." That is a wrong title because she was not a witch, she was a necromancer. Or, she was "a woman who has a familiar spirit," or "a woman who is mistress of a ghost." These are also good translations of the Hebrew word.
The Bible gives us clear warning. No Christian should ever, at any time, for any reason, involve himself with these practices or people who practice these evil arts. Nor should any Christian ever have or own the objects or participate in any of the ceremonies or practices listed below.
2. Occult Objects and Practices
Amulet
Charm
Fetish
Horoscope
Idols
Ouija Board
Tarot Cards
Zodiac
(or any other item regarded as having "magic" powers).

Ancestor Worship

Astral Projection
Astrology
Black Magic
Black Mass
Black Sabbath
Blood Sacrifice
Cannibalism
Channeler
Clairvoyance
Demon Worship
Divining
Eastern Religions
Fakirs Practices
Fertility rites
Folk Healing
Free Masonry
Gris-Gris
Horoscope
Hypnotism
Interpretation of Dreams
Kusillu, or "Monkey Dance"
Levitation

Magic

Magical Numbers
Magician
Mardi Gras

Medicine Man
Meditation
Medium
Mind Reading
Necromancy
Occult
Omens, interpret
Palm Reading
Parapsychology
Precognosis
Physiognomy
Rebirth Ritual
Ritual Pain
Ritual Sacrifice
Seances
Sexual Rituals or Initiation
Shamanism
Sorcery
Spells
Spiritism
Subliminal Messages
Superstitions
Talisman
Tea Leaf Reading
Telepathy
Telesthesia
Witchcraft
Witch Doctor

____________________
4. The cultic groups and churches look to parapsychology for verification of their religion, and have grown as the recognition of physical research has grown. They might be said, however, to have an attitude better labeled "scientism," that is, they have a love of things scientific but little knowledge, or appreciation, of science and scientific methodology. Handbook on Living Religions by John R. Hinnells, Viking Penguin, Inc. New York, NY
5. The International Standard Bible Encyclopedia, William B. Eerdmans Publishing Co., Grand Rapids, Michigan, Volume I, Page 296.